Join us on Race day as we celebrate your survivorship!
From the moment a person's breast cancer diagnosis is confirmed, she or he is considered a survivor. Race day is an opportunity for us to recognize our survivors for their bravery, and to show them how much they are loved, cherished, and respected.
Events Planned for Survivors
Survivor Tent Opens: 6:45 a.m.

Survivor Procession & Celebration: 9:30 a.m.
Survivors
We would like to invite participants to recognize those special people who have been touched by breast cancer. "In Memory of" and "In Celebration of" back signs will be available for all Race participants.
You'll find an incredible community of survivors and co-survivors at the Susan G. Komen Central Florida Race for the Cure®. Survivors and co-survivors gather to celebrate and support one another in an atmosphere of genuine camaraderie. It is their inspiring spirit that energizes us to continue the fight to end breast cancer forever.
All breast cancer survivors (who choose to indicate as such at the time of registration) will receive a special pink Race bib as well as a pink Race T-shirt.
Co-Survivor Award

As any breast cancer survivor knows, facing the challenges of fighting this difficult disease is not done alone. Each and every survivor has been supported by a team made up of spouses, parents, friends, neighbors, co-workers and many others. To recognize that beating this disease is a team effort this award asks Survivors to nominate the individual who stood by their side during their fight. Nominate your co-survivor at race@komencentralflorida.org.


On Race Day, survivors will be:
Welcomed into the Survivor Tent to enjoy light refreshments before the Race and pick up a special Survivor goody bag. (For those who are unable to visit the tent before the Race, goody bags will be available for pick-up after the Race.)

Invited to participate in a special honorary ceremony after the Race.

Survivor Race packets will include the following:
Race t-shirt

Pink survivor t-shirt

Pink Race bib
Honor Those We've Lost
At the Race, you will have a chance to write a name or short note on the Honor & Memory banner which will be located outside of the Survivor Tent, to recognize the person(s) you are honoring or remembering.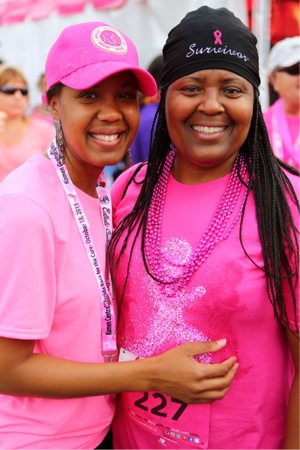 Survivor Breakfast
Refreshments will be served in the Survivor Tent starting at 6:45 a.m.

You must wear your pink 2016 Race bib for entrance into the tent.

All survivors will be entitled to bring ONE GUEST into the Survivor Tent.
Survivor March
Please return to the Survivor Tent by 9:05 a.m. to line up for the survivor march which will begin at 9:30 a.m. This is an honor exclusively for our survivors.