2012 Race News

Join us on Sunday, Oct. 21, 2012 at UCF's Bright House Networks Stadium for our 16th Annual Race for the Cure! It's our signature fundraising event where you can't help but be inspired! Click here for the latest information about teams, fundraising, survivor activities and more!
Register before October 1st and use the discount code SWEET16 and save $5 off your registration!
3N2 2-Day Deal: Breast Cancer Awareness Jersey
Only $29.99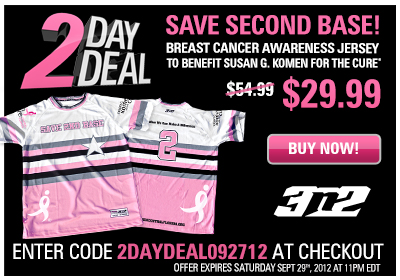 Introducing.............


This October, the men who stand in this fight against breast cancer are gaining even greater representation. Join us as we present the Inaugural Class of the Komen Central Florida 'Pink Tie Guys' on October 18, 2012 at the Orlando Sentinel's Pretty in Pink Party. These men, selected for their various contributions to the breast cancer cause and the community, will give voice to the men diagnosed with breast cancer and the men helping their loved ones fight for their lives. See Events listing for event details.

You ask and we could receive!
Be sure to stop by our table this Saturday at the Daytona Beach Breast Health Symposium, presented by Radiology Associates Imaging Centers. Did you know that by simply asking the organizers (when purchasing your ticket) to donate the proceeds from ticket sales to Komen Central Florida, you could be raising funds for us? They will even match the funds raised! Let them know Komen Central Florida is your choice! For more details about the event, click here.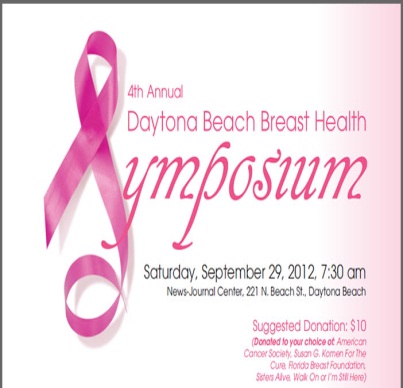 October Events
Knights for Pink presented by Florida Hospital

UCF Football vs. East Carolina
October 4, 2012 Kick off at 8:00 p.m.
Purchase your discounted game tickets here and UCF Athletics will donate $2 from the sale of each ticket to Komen Central Florida. Use Promo Code: UCFKOMEN
Unity in Uniform's 3rd Alarm Fashion Show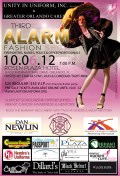 October 6, 2012 starting at 7:00 p.m.
Rosen Plaza Hotel, 9700 International Drive, Orlando, FL 32819.
For more event details, click here.
Blue Martini's Pink Party

October 13, 2012 starting at 8:00 p.m.
Dress up and enter to win amazing prizes. Click here for more information.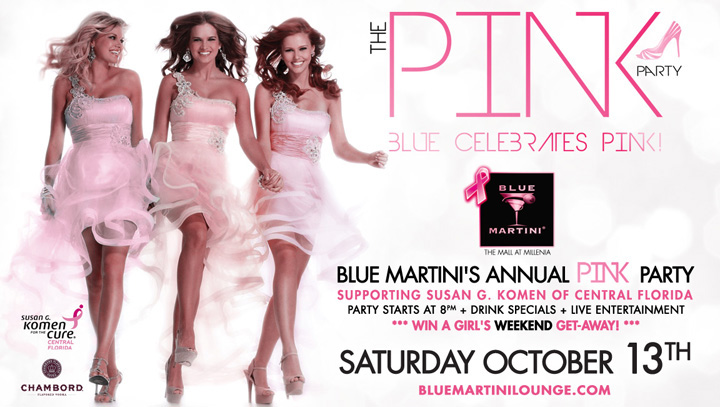 Titusville Goes Pink!

Saturday, October 13, 2012 starting 8:00 a.m.
There will be something for everyone! For more activities, events and information click here.

Pretty in Pink Party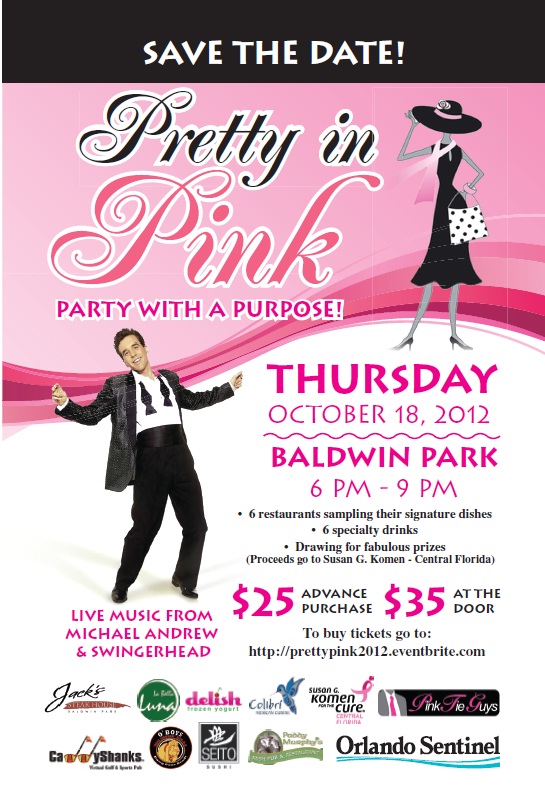 Hosted by The Orlando Sentinel, this event will feature a special presentation of a select group of men from the Central Florida community, chosen as Komen Central Florida's 'Pink Tie Guys'. Join us on Thursday, October 18, 2012 from 5:00 p.m. to 9:00 p.m.
New venue this year:
Baldwin Park
For more event details, click here.