July 2012
Everyone plays a part in the fight against breast cancer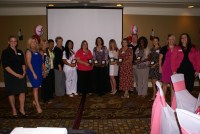 Last week we had our 2012 Pink Promise Luncheon, and what a great turn out! This event spotlights our grantees and where our funds go. Our top sponsors, fundraisers, volunteers and grantees helped us celebrate what we've been able to do since our Affiliate started in 1999! Did you know that we have put over $5.5 million into our community to provide breast health and financial assistance? Thank you to everyone who has supported us and played a part in the fight against breast cancer. We are so proud of our community, sponsors and partnerships! Check out our 10 grantee programs here.
2012 Race News
Register now for this year's Komen Central Florida Race for the Cure on Sunday, October 21, 2012 at UCF's Bright House Networks Stadium!

Get your preferred T-shirt size and Team name by registering early! Click here for the latest information about teams, fundraising, survivor activities and more!






Our race is not over…it is not won…until we've found the cures for breast cancer.

In Celebration & In Memory Nominations
New this year, Komen Central Florida's Race for the Cure is paying special tribute to two individuals from our 9-county service area that have inspired others by exuding strength and grace during their fight with breast cancer.

Tell us who you think this year's Race for the Cure should be run in celebration of and how their determination has inspired others in the battle against breast cancer. Or you can nominate someone who, after a courageous fight, lost their battle.

Nominations must be received by September 1, 2012.
Click here to nominate someone.


Your Story Could Save a Life
We are still looking for local Survivor stories to share in October's issues of the Orlando Sentinel. Sometimes all it takes is a Survivor story to touch another member of our community and encourage them to seek breast health. If you are interested in sharing your story and being honored in the Sentinel, please e-mail info@komencentralflorida.org.

What is information, if not shared?
We get numerous requests for us to be present at Health Fairs or other events to talk about breast health and the life-saving programs we fund. We NEVER like to miss an opportunity to make an impact and possibly save a life. Komen Central Florida volunteers are our ambassadors in the community who help to spread the word when we can't be everywhere we'd like to be. Let us know if you'd like to be on our list of wonderful ambassadors and please see below for the newest opportunity:

The 2nd Annual Caribbean American Heritage Month Festival at Lake Eola - Sunday, August 12, 2012
We'll be there to provide breast health education with materials and trivia. This event will offer free health screenings as well as celebrate the diverse cultural and ethnic flavor of the Caribbean. Attendees will enjoy a spectacular feast of Caribbean food, drink, dance and live musical performances, as well as a display of artwork by Caribbean-American artists. If you're interested in volunteering at this event, please click here.

Double Duty
Does your company have a give-back option where they donate to a charity of your choice, all because you volunteered your time there? Ask them, and if the answer is "yes" just let us know! We'd love to have you volunteer with us and raise funds for necessary programs at the same time.

Pink Out for the Cure
Pink Out for the Cure is a fundraising program designed for school athletic programs. Pink Out empowers students to fundraise for Komen Central Florida, educate parents, faculty and teammates about the importance of breast health, honor breast cancer survivors and memorialize those lost.

To learn how you can host a Pink Out for the Cure event at your school, download this Pink Out For the Cure Toolkit or email Events@komencentralflorida.org.

Voice your Opinion
Don't let Government Funding for Breast Cancer in Florida slip through the cracks. Sign this online petition to let our legislatures know how important government programs are to you and then tell everyone you know!
Oriental Trading Fun!
From June 1, 2012 to May 31, 2014, Oriental Trading Company will conduct the
'Sharing Smiles for the Cure'
program to benefit Susan G. Komen for the Cure. During the program period, OTC will donate 15 percent of the retail sale price of each Running Ribbon item sold, with a guaranteed minimum donation of $100,000 to Komen! This includes Balloons, table covers, cups, plates, paper lanterns and more!
Click here to start shopping!
Thank you 2012 Central Florida Race for the Cure Sponsors!
We can't say enough how much we appreciate the local donors and sponsors who have already signed on for our Oct. 21 Race! Their support tells the thousands of participants and the community-at-large that they are invested in finding a cure for breast cancer.
Fox35 WOFL
my65 Orlando WRBW
Clear Channel Radio
Sand Lake Cancer Center
Local Edge
Florida Hospital
Karl's Event Services
Halifax Health
Orlando Magazine
Security First Insurance
Nordstrom
Trademark Press Solutions
DoorstepDelivery.com
Panera Bread
Valpak
Dunkin' Donuts
Ron Jon Surf Shop
Fairwinds Credit Union
Dick's Sporting Goods
Roger and Alida Schmitt and
Family
URS Federal Technical Services
Dan Newlin
B Cupcakes
Fresh Point
Two Men and a Truck
Planet Fitness